Roundit –
Creative Tools for Community Engagement
---
THE CHALLENGES
Exploring issues in existing public engagement methods and design new engagement tools that creates better services

THE OUTCOMES
An interactive and creative toolkit and it's user guide to be used in Community Engagement events.


A workshop took place to pilot this toolkit and a tangible outcome of this workshop was exhibited.


The report that shows the insights from the workshop was delivered to Lewisham Council.


MY ROLE: Research, Design, Production, Project Management, Workshop Lead

CATEGORY: Social Design, Community Engagament

STAKEHOLDERS: Lewisham Council, Young Advisors Lewisham


---
RESEARCH & IDEATION

After days of desk research, I tried to work out what was happening at the council meetings as they were represented as the place where engagement activities take place.I attended many of "public engagement" events in London in order to achieve this. I had the chance to observe the conditions and interview some of the participants and city officials.

After applying different research methods such as; self-ethnographic aproaches, participant observation, contextual interviews, journey maps, developing key insigts and compiling research reports, I moved on the ideation phase and definied the main goals of the ROUNDIT project.



ROUNDIT is a project that;


Explore the issues in existing engagement methods and the power of co-designing for better services

Design tangible and interactive tools that promote novel forms of participation and discover new ways to create and share knowledge, stories, and experiences

Facilitate workshops with the tools

Analyze the outcomes of the workshop & refine the tools and methods

Highlight the results – inform stakeholders, reach a wider audience to make a positive impact



The ROUNDIT project aims to raise and answer two main questions;


How can participation be facilitated for community engagement?




What tools do you ask people to use in order to encourage them to participate more in decisions affecting their lives, and better understand complex social, environmental and political processes?

---
PROTOTYPING & FACILITATION

During the research phase of this project, I had to chance to meet great communities. I got highly interested in collaborating with one of these groups; Young Advisers Lewisham that consists of hundreds of young people aged 10–18 living, working or studying in the borough. Their events allow local young people to have their say on how decisions should be made and how money should be spent in the borough. I joined their weekly events to observe and understand their needs.

Designing inclusive & creative community engagament tools to encourage young people in Young Advisers Lewisham.


Design Principles

Low budget - DIY

Create motivation for participation

Promote collectivity and collaboration

Provide friendly and vibrant atmosphere

Enhance conversations

Recognition of other pieces (other's ideas, stories, experiences)

Revealing different connections and perspectives through the joining of pieces in different ways and angles

Active brainstorming/thinking

Edible methods for different events; you can create many variable production steps and design the pieces according to this.(For example, if the group have 3 topics to talk; you can use 3 different colours and ask participants to reflect the ideas on the matching colour pieces first and then according to aim of the meeting; guide them to connect pieces in different colours together....)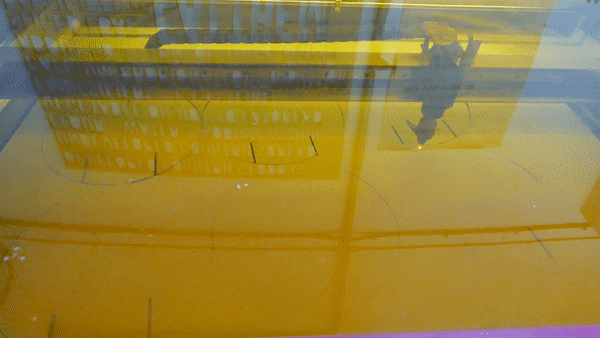 Roundit Lewisham Workshop


Suggested topics for the workshop: Mental health & Wellbeing, Safety & First aid, Regeneration & Housing
Selected Topic : Jobs & Training (Choosen by the participants)
Location: Lewisham Council Civic Center
Participants: 15 local young people aged between 10 to 16.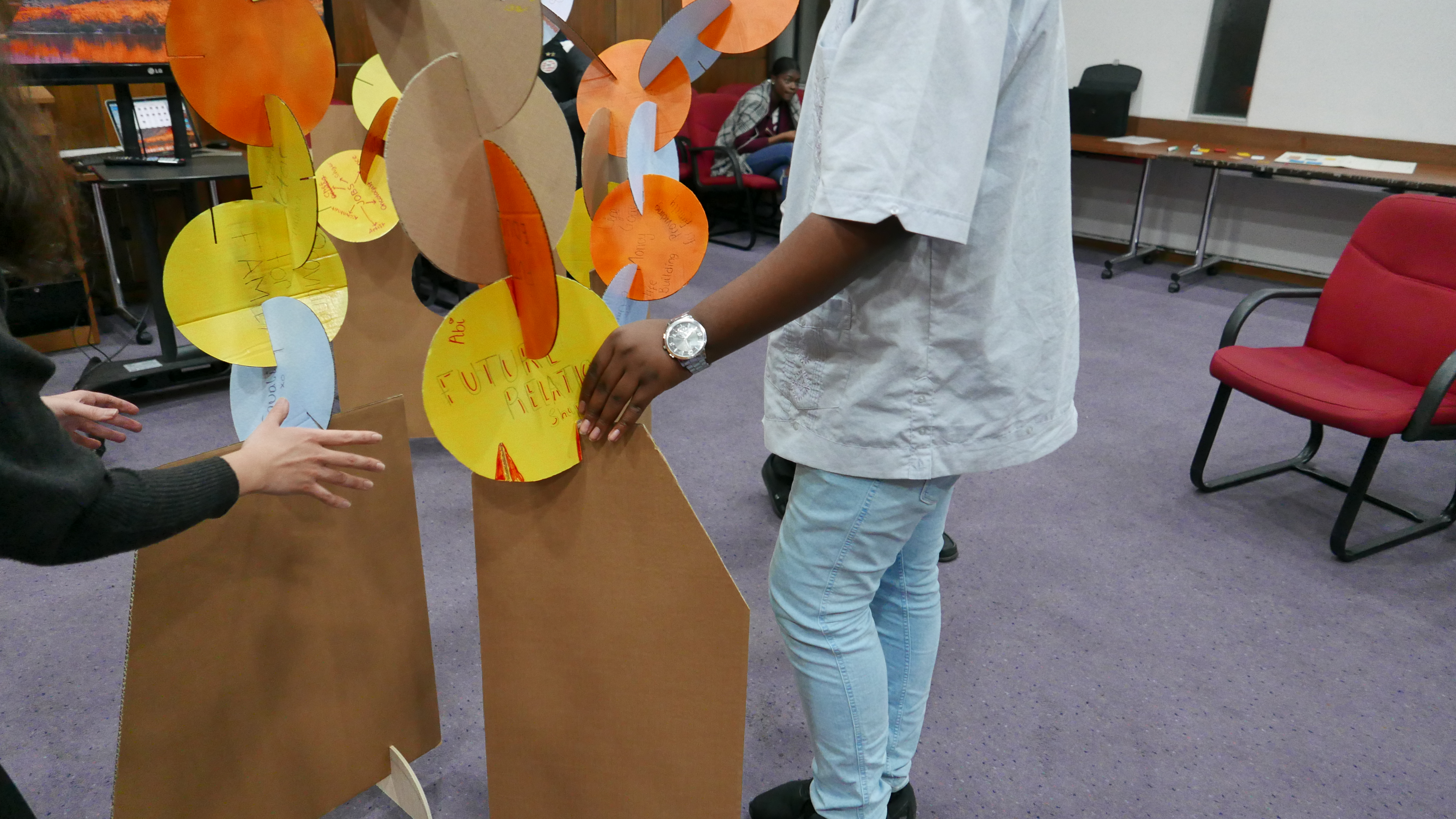 Yellow and Orange Rounds
Why does this topic important / what does it mean to you?


Blue Rounds
What are your wishes/demands/dreams about the topic?
---
IMPACT & FURTHER IMPLEMENTATION
Sharing insights with the Lewisham Council

The report that shows the insights from the workshop was delivered to Lewisham Council. As the report includes personal stories of young people, it is confidential. If you want to talk about it, please contact me.
Exhibiting the structure publicly


Re-created version of the structure was exhibited and reached a wider audience during the ITERATIONS exhibition at St. James Church, New Cross.




The aim of this:
make ideas visible

move the conversations from the rooms to the daily life

capture public attention

raise awareness about the issues of the workshop

activate new ways of sharing and knowing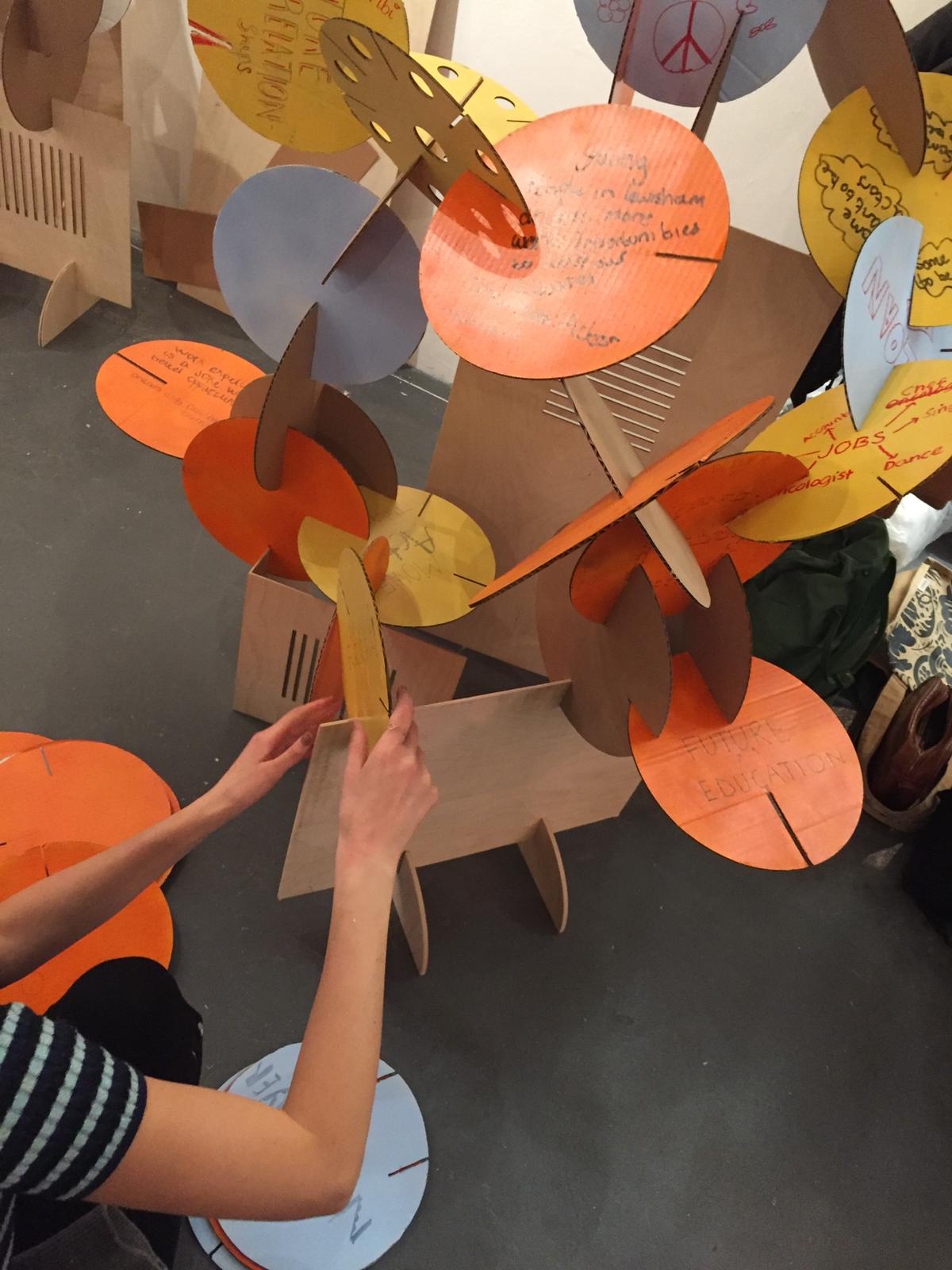 From Iterations Exhibition @ St. James
Proposal for Public Spaces


How could Public Places be used to empower the public?
How could architecture and art be a part of Community Engagement process?
---